Your Kitchen & Bath Specialists
CITY CABINET CENTER specializes in the design, supply and installation of kitchen and bath cabinets. Located in San Diego and with over 15 years of experience, we pride ourselves on our expert design services, excellent customer service, and ease of working with us.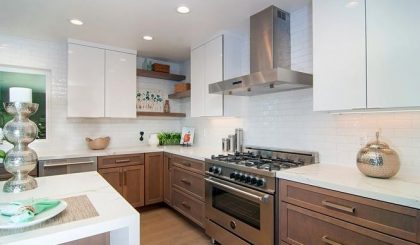 San Diego Kitchen Cabinets
If you're looking for kitchen cabinets in San Diego, look no further! At CITY CABINET CENTER , we work with a variety of cabinetry lines that offer a spectrum of door styles and finishes, so there is something for everyone. Our specialized kitchen designers in San Diego can help to transform your space to combine both form and function.
You're thinking of remodeling your kitchen. What now?
We recognize that a kitchen remodel is a large investment that you have saved up for. Therefore, we feel strongly about you being an informed consumer and knowing exactly what you are getting. Our expert kitchen designers have in-depth product knowledge to guide you in your kitchen cabinetry selection and to find the cabinetry that best suits your needs.
Meet with one of our kitchen designers at our San Diego showroom to get started. There is a plethora of options out there, and we can help you narrow them down to meet your needs and budget. Considering your remodeling time frame, as well as your preferences of cabinetry door style, finishes, box construction and/or accessories, we can help you determine which line will best accomplish everything you're looking for.
Let us help you make your remodeling project easy and manageable!
Expert Cabinetry Installation
A plan is only as good as its execution. That's why at CITY CABINET CENTER , we place emphasis on delivering a clean kitchen design that looks good and functions well off paper. Our team of professional cabinetry installers are fully licensed and insured, and have installed more than 3000 kitchens around the San Diego area.
Why Have Us Install?

Every cabinetry line has their own quirks and nuances about them. Our installers have worked with the cabinetry lines we carry for many years and know each line like the back of their hand. This takes out any guess work during installation and minimizes the risk of potential mistakes, ensuring a smoother process.
Our designers and installers have also worked hand-in-hand for many years, which means we know how each other works. Our installers are familiar with the way our designers put a kitchen together, and therefore are able to execute the designs as they are intended.
Having us install your kitchen cabinets also allows us to have control over the installation process, which means we are able to take responsibility of any problems that occur and therefore find solutions for them. This again ensures a smoother and more efficient process, so that you can enjoy your new kitchen sooner!
At CITY CABINET CENTER , we understand that kitchen and bath remodeling can be an overwhelming process, and we are here to help. As San Diego's kitchen and bath design specialists, we can help you transform your space into a kitchen or bath that combines both form and function. You can have a kitchen or bath that looks beautiful while maximizing your space. Most importantly – one that works for you.
Our cabinetry lines offer a spectrum of door styles and finish choices, so that there is something for everyone. Whether you are looking for a modern contemporary look, a vintage one or something in between, our kitchen and bath designers can help you select a door style, wood type, and finish that will achieve your desired look.
Our professional installers have the right expertise and the eye for detail when it comes to installing your kitchen and bath cabinets. Turn your dream cabinetry into a reality with our fully licensed and insured installers.
Quality Products for All Budgets
At CITY CABINET CENTER , we are proud to stand behind our products and attest to their quality. If we do not feel comfortable putting something we carry in our own homes, why should we expect you to? So even for those on a tight budget, rest assured that you will still get kitchen cabinets that will not only look good, but will also last. You will get value.
If you are looking for a specific door style or finish, simply share your wishlist with one of our knowledgeable kitchen designers so that we can point you in the right direction! Our cabinetry lines offer a wide selection of door styles and finishes, and we are confident that there is something for everyone.
Click on each cabinetry line below to learn more about them!
For those who want custom cabinetry without actually going custom, this Masterbrand Cabinetry line allows for lots of customization abilities, including picking your own Sherwin-Williams paint color!
Bellmont Cabinets is not only committed to providing high-quality semi-custom cabinets for your homes, but they also aim to preserve nature. The same level of attention devoted to crafting exquisitely detailed cabinets is also extended to the environment.
Be prepared to be spoiled for choice with Schrock's cabinetry selection, now offered in both framed and frameless cabinetry box construction, with a wide selection of door styles and finishes in a variety of wood types.
A value-driven line with a door style and finish selection that appeals to most palettes. Waypoint offers a straightforward approach to cabinetry for those who want to look good without blowing their budget.
Need to turn a kitchen around within a week? With an order lead time of 5-7 business days, our stock cabinetry line is perfect for those on a tight budget and timeline, without having to compromise on quality.
We Do Bathrooms Too!

Need bath vanity cabinets? We've got you! Choose from the same selection of door styles and finishes as our kitchen cabinets, and we'll do the rest.
Ready to Start? Get in Touch!
Now that you've seen what we have to offer, contact us to get started! We would love to walk you through the process and help you put together a beautiful kitchen and/or bath.
Call us for an appointment so that we can give you the requisite attention you deserve on your visit. Or stop by our San Diego showroom to learn more about our design, supply and installation services for your cabinetry needs.
1108 Morena Blvd
San Diego, CA 92110
Showroom Hours
Mon-Fri, By Appointment Only.
PROFESSIONALISM YOU CAN TRUST
CITY CABINET CENTER is a proud member of the National Association of the Remodeling Industry (NARI) and the National Kitchen and Bath Association (NKBA).
NARI's core purpose is to advance & promote the remodeling industry's professionalism, product & vital public purpose.
NKBA represents the finest professionals in the kitchen and bath industry. NKBA can help you find experts for design ideas, expert remodeling tips, and advice.
We are the "BEST OF" WINNER for kitchens over 120 square feet in the Kitchen Craft® 2017 Design Contest.